This is part of our series about new 2015 California Real Estate laws. Click here to see the series.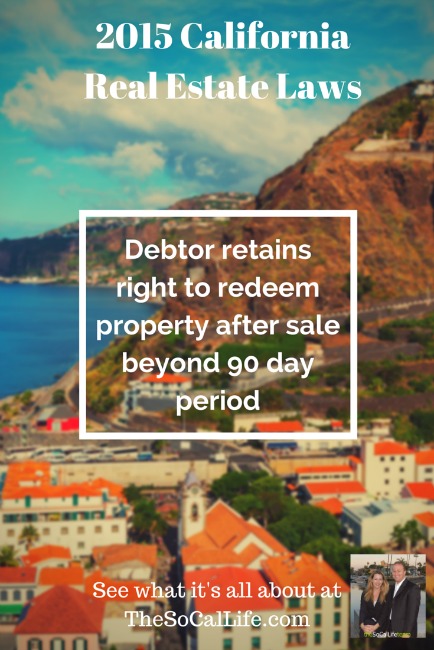 In 1982 the legislature wrote into code the Enforcement of Judgments Law which says that a sale of real property pursuant to execution sale regarding enforcement of judgments is absolute and may not be set aside. As a safeguard, that same law states that if the sale was improper because of irregularities in the proceedings, because the property sold was not subject to execution among other reasons, the judgment debtor may commence an action within 90 days after the date of sale to set aside the sale if the purchaser at the sale is the judgment creditor.
Importantly, the Enforcement of Judgments Law was not originally intended to affect the equitable right of redemption. This is the right that a judgment debtor has to redeem property from a sale where there may be a grossly inadequate price, or where the purchaser is guilty of unfairness or has taken undue advantage, or in other circumstances which could merit an equitable right to redeem beyond the 90 day period.  This law declares that these provisions of existing law do not affect, limit, or eliminate a judgment debtor's equitable right of redemption.