This post is part of a series about new 2015 California Real Estate laws. Click here to see the series.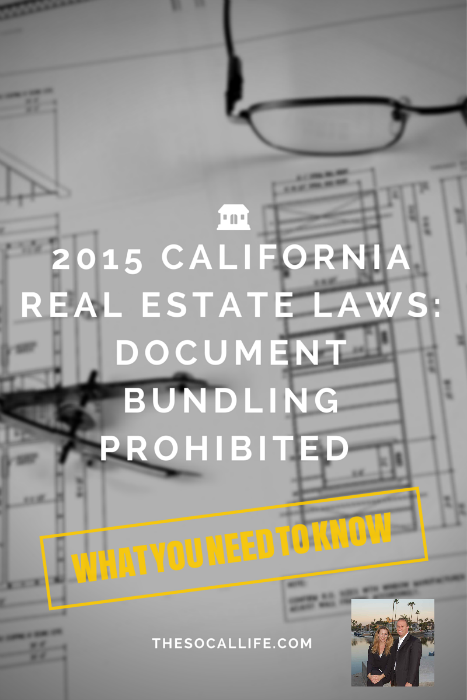 Document Bundling Prohibited by HOAs: Sellers must now pay all fees
This California Association of Realtors (CAR) sponsored bill prohibits the practice of document bundling (requiring the purchase of a package of documents together with the legally mandated disclosures) in the sale of units in a common interest development. Currently, the law requires delivery of various common interest disclosure documents ("mandated CID disclosures"). These disclosures include the CC&Rs, Bylaws, Operating Rules, rental and age restrictions, budget reports, regular and special assessments, etc. Under the new law the fees for these mandated CID disclosures must be individually itemized for each document. Additionally, the fees for all mandated CID disclosures must be separately stated and separately billed from all other fees, fines, or assessments. Only mandated disclosures may appear on the statutory form. Once a written request for the mandated CID disclosures is made, the HOA must estimate the cost of the mandated CID disclosures prior to processing the request. Where there is no hard copy delivery of documents, the HOA may not charge an additional fee for electronic delivery in lieu of the hard copy.  The statutory form has been modified to reflect these changes. This law would also require a seller to provide a prospective purchaser with all mandated CID documents that the seller possesses — free of charge. If a seller confirms in writing that the document is a current document then the HOA may not bill for it. The association may collect a reasonable fee based upon the association's actual cost for the procurement, preparation, reproduction, and delivery of the documents – but only from the seller. It is the responsibility of the seller to pay the association, person, or entity that provides the mandated CID disclosures.  See Civil Code §§4528 -4530.