This is the first official week of fall, and we are sharing a few Fall Home Maintenance Tips to help you prepare your home for the Southern California winter.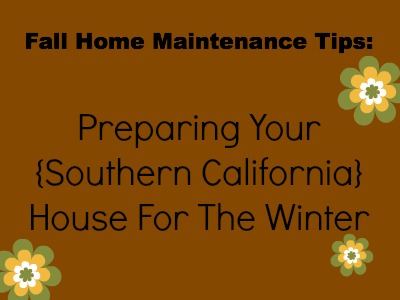 Five Fall Home Maintenance Tips
1. Smoke Detectors: Replace those batteries! If you remember to replace the batteries in all of your smoke detectors every time Fall and Spring roll around, you'll avoid those 2 a.m. beeps warning you that a smoke detector somewhere in the house is about to die.
2. Heating system: It's always a good idea to check out your heating system before you use it, especially if it will only be used a handful of times during the winter. The last thing you want is to be stuck in the cold! For the online search results for Heating and Air Conditioner Service for Orange County, click here.
3. Look for leaks: Look around doors and windows for spaces where cold air might get into the house. You could use a flashlight to check for door drafts (after dark), or a candle flame to check for window drafts. If you notice leaks or drafts, add weather stripping to doors and use caulk on the windows.
4. Add a carbon monoxide detector: If you haven't already, consider adding a carbon monoxide detector to your home. This colorless, tasteless, odorless gas is commonly referred to as "the silent killer" because it's virtually impossible to notice unless you use a detector. Adding a detector to your home adds one more layer of safety between your family and harmful gasses.
5. Prepare your fireplace: Sitting by the fireplace on a chilly night is a great way to enjoy your home. Make sure your fireplace is free of ashes and your chimney is cleaned out before turning it on for the first time. For a list of fireplace service companies in Orange County, click here.
Making sure your home is ready for the cooler weather can help prevent expensive headaches during the winter. Though we don't experience the deep freezes that other parts of the country experience, there are still a few things we can do to prepare our homes for the winter months.