We'd like to thank Nick Alvino from JMJ Financial for sharing this important information with our clients. Please don't hesitate to reach out to either Danny (949-413-6967) or Jade (949-246-2078) if you have any questions about what this update means to you.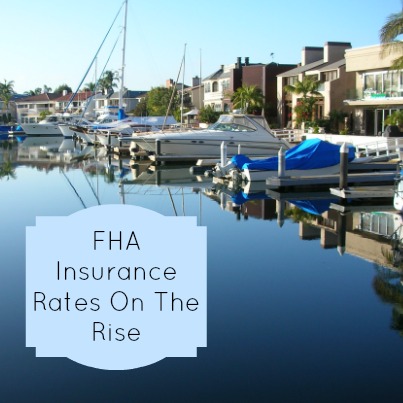 The Federal Housing Administration, which is the largest insurer of low-down payment mortgages, announced last week that effective April 1, 2013 it will raise premiums by 10 basis points, or 0.1%, on most of the new mortgages it insures. A borrower opting for a 30-year, fixed-rate mortgage who puts 5% or more down, for example, will now pay an annual insurance premium of 1.3% of their outstanding balance, while someone who puts less than 5% down will pay a premium of 1.35%.
The agency said it will also raise premiums for borrowers with jumbo loans — or loans of $625,000 or more — by 5 basis points, or 0.05%, and increase the minimum down payment requirement on these loans to 5% from 3.5%.
Other changes for which official announcements will be forthcoming over the next few days are:
An increase in annual mortgage insurance premiums (MIP) on most mortgages by 10 basis points or 0.10%. Premiums on jumbo mortgages with balances of $625,000 or larger will increase by 5 basis points or 0.05%. This will bring jumbo mortgage premiums up to the maximum premium authorized by Congress. These premium increases exclude certain streamline refinance transactions.
FHA will reverse it's existing policy of cancelling MIP on loans when the outstanding principal balances reached 78% of the original balance. Because FHA remains obligated to insure 100% of the outstanding loan balance for the life of the loan, homeowners will now be required to maintain principal payments over that period as well. FHA's Office of Risk Management and Regulatory Affairs estimates that the MMI Fund has foregone billions of dollars in premium revenue on mortgages endorsed from 2010 through 2012 because of this automatic cancellation policy.
FHA will require lenders to manually underwrite loans for which borrowers have a decision credit score below 620 and a total debt-to-income (DTI) ratio greater than 43%. Lenders will be required to document compensating factors that support the underwriting decision to approve loans where these parameters are exceeded, using FHA manual underwriting and compensating factor guidelines.
FHA will propose an increase in the minimum down payments for jumbo loans from 3.5% to 5%. The proposal will be published in the Federal Register within the next few days.
FHA will step up it's enforcement efforts for FHA-approved lenders with regard to aggressive marketing to borrowers with previous foreclosures. Borrowers are currently able to access FHA-insured financing no sooner than three years after they have experienced a foreclosure, but only if they have re-established good credit and qualify for an FHA loan in accordance with FHA's fully documented underwriting requirements. It has come to FHA's attention that a few lenders are inappropriately advertising and soliciting borrowers with the false pretense that they can somehow "automatically" qualify for an FHA-insured mortgage three years after their foreclosure. FHA will work with other federal agencies to address such false advertising by non-FHA-approved entities.
Finally, as discussed in it's Annual Report to Congress, FHA is also committed to structuring a new housing counseling initiative that would apply to a number of borrower classifications, including borrowers with previous foreclosures.
Again, we are available to discuss these changes with you – feel free to call us with any questions you have!