Warmer weather is right around the corner – these spring home maintenance tips will help you get your SoCal home ready for the sunshine!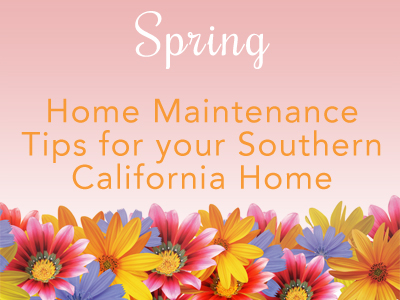 Five Spring Home Maintenance Tips
1. Gutters: After the rain and cold this winter has brought, make sure your gutters or rain spouts are clear of debris and leaks. Spouts should be at least 8 inches away from the foundation of your home.
2. Smoke Detectors: Replace the batteries! If you remember to replace the batteries in all of your smoke detectors every time Fall and Spring roll around you'll avoid those 2 a.m. beeps warning you that somewhere in the house, one is about to die.
3. Clear out your fireplace: Especially if you used your fireplace this winter, make sure the chimney is clear of sticks, twigs and other debris. The last thing you want is something stuck in your chimney next fall when you start a fire!
4. Yard Maintenance: Get your yard in order! Fill any low spots in your yard with fresh soil to avoid water collection areas this summer – they attract insects! Also, clear out any dry dirt and replace it with fresh soil and some flower seeds. This is the perfect time to begin planting low-maintenance wildflowers.
5. Trim: Check around your doors, windows and decks for cracks. With the spring season comes rain, and you don't want to be caught with leaks!
Check to make sure your home is ready for the warmer temperatures.  Southern California may not experience the drastic temperature changes that other parts of the country do, but there are still a few things we can do to avoid spring headaches.